As if dating wasn't already a landmine full of situationships, liars, cheaters, navigating through toxic traits, emotional unavailability, and having to actually like someone, we're now in the midst of a global pandemic. With folks staying home and practicing social distancing, quarantine, and everything in between: dating just got that much harder. But I think that there's a great opportunity to build connections based purely on conversation. It's going to require vulnerability and a reliable internet connection.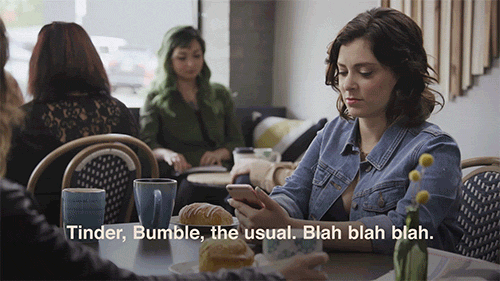 I did it so that you don't have to: I used nearly every dating application and have put together a comprehensive review so you can decide if you want to try finding love over the internet. I've also included some tips to make the best out of your experience. 
First thing's first: if you have reservations about online dating and believe that dating should be done the old-fashioned way, I have some news. Over 30% of Americans have reported using a dating app and since the pandemic, those numbers have increased. And while some may have had a negative experience, I wouldn't let that discourage me. How many times have you ordered something online only to find that it didn't look like the pictures or didn't fit right? There's risk in nearly everything and as long as you trust the internet to help you pay your bills, shop for essentials, connect with your friends, do your job, and get an education, you can try online dating. Cool? Cool. 
The second thing to remember is that while all apps are not created equally, there are a few must-do's for every profile you make.
Post at least 4 good quality pictures and all of them have to be recent (as in very close to how you look right now, or no older than a year old). Two should be full body, ideally from different angles, one showing your smiling face clearly without filters or sunglasses, and one showing you in action doing something you love like dancing, playing a sport, or laughing. Research suggests that your profile picture will get more attention if it's in black & white.
Be flirty but direct in the "about me" section. Super long ones likely won't be read. I opt for a bulleted list that includes my likes and what I'm looking for. I sometimes throw in an emoji or two. Any more and it's like reading hieroglyphics.
Take a few weeks to explore the app and see if you like the interface, selection of prospects, and usability. Don't dismiss it right away if you get a few bad matches.
Pay for the premium version of your favorite app or apps.
So, in no particular order, here it is. The best damn dating app review. 
Tinder: Tinder gets a bad rep from those who were introduced to it as a hookup app but over the years, it's changed quite a lot. I'm a fan of the selection, the fact that I can include gifs in messages, and perhaps the best thing: Tinder Passport. Available to premium members only, Tinder allows you to connect with prospects anywhere in the world where Tinder is used. That means that if you feel like exploring Barcelona or London, you can with a few clicks. Of course, more volume means more to wade through but because I have Tinder Gold, I rarely swipe. I work from the list of men who've already liked me. 
Pros: Lots of selection
Cons: Not enough filtering options, no in-app communication features other than text
Bumble: The app that puts women in the driver's seat, Bumble touts itself as an app for women, by women. The founder, Whitney Wolfe Herd, is a co-founder of Tinder. Bumble's interface is a bit nicer to look at than Tinder and you can filter by height, education, political party. You also have to initiate the conversation with every man you match with. Bumble has features that sets it apart from other apps like in-app calling, voice notes, picture messages, and video chat so you don't have to exchange numbers. Make no mistake, though, plenty of men have tried to hook up with the app and the only time I've been ghosted was by a guy I met from Bumble. 
Pros: Puts women's safety first with features like in-app calling and allows for more filtering 
Cons: Having to message first, no global feature, not as much selection
Hinge: The app that's "made to be deleted", Hinge is one of the new apps on the block. The first thing you'll notice is that Hinge is set up to drive connection based on personal details, not demographics. Users have to answer prompts to certain questions like "what's the most spontaneous thing you've done?" to complete their profile and prospective matches can like and comment on a picture or prompt. But once you get over the initial surprise, it operates like the others: swipe or hit X if you don't like someone. 
Pros: Marketed as a dating app for only those serious about dating, interesting prompts
Cons: Limited selection, glitchy, and seems to show the best profiles in the beginning but gradually quality decreases 
Match: One of the older apps, Match is an app for the more serious dater. You must pay to use it and most of the connections are on it for the "right" reasons. That being said, the selection is limited and I'm not really a fan of it. The app still has glitches to work through and to date, their filters don't seem to work well. As one user says, "Match [has] a whole bunch of ugly [guys]".
Pros: Serious prospects since you have to pay to play
Cons: Not enough options, glitchy and outdated interface
The League: Boasting as an app for those who are the most desirable based on their qualifications, The League is definitely the kind of app that's only worth it if you pay to play. With a $100/month price tag, it comes at a heavy cost. They also have great groups so you can still chat with other singles without exactly matching or paying. The creators also prioritize engaged users so if you don't log in consistently or respond to messages, you'll be booted for being flaky. And without a paid membership, that means having to reapply and going on the waitlist – which can take months until approval.
Pros: High quality matches, social groups, emphasis on staying engaged
Cons: Limited matches without paid membership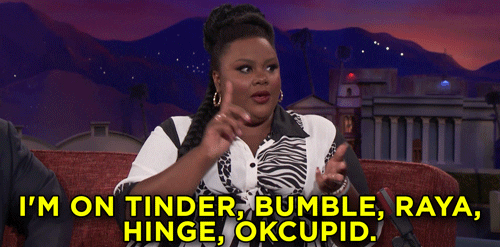 Not so honorable mentions:
OkCupid: I don't like this app at all. I first used it close to a decade ago and while the looks have changed, the quality on there hasn't.
E-Harmony: It's probably the best app there is for matching commitment-minded people because it uses an algorithm based on a personality assessment. That being said, the pickings are slim and the price tag is on the higher end.
I've also used Soul Swipe, Black People Meet, Raya, and Happn. In my opinion, they're a waste of time. 
There it is! Happy searching and remember to be safe and stay inside.
Looking to collaborate? Feel free to contact me, I'm always looking to work with amazing content creators.